League of Angels Version Update V 3.12: New Clothing St. Patrick's Fame
16.03.03
Update Time: Mar. 3rd
New Version: V3.12
New Clothing:
St Patrick's Fame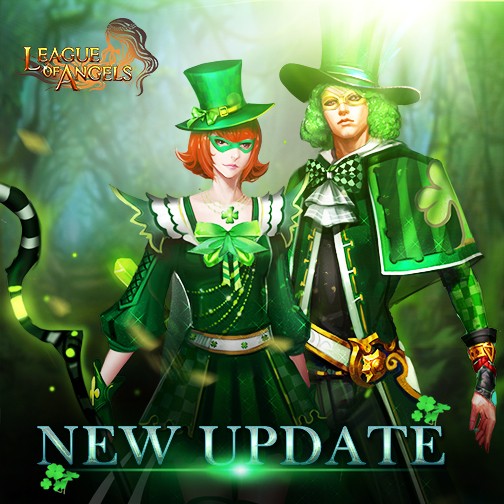 New Angel in Angel Awakening System:
Noelle
New Component in Homestead:
1.Little Seal
2.Easter Egg Basket
3.Four-leaf Clover
4.Four-leaf Clover Pot
5.Leiothrix (Rose Gold)
6.Whirligig Horse
Get ready for Saint Patrick's Day. More fun awaits you in game!
Improvement:
1.

Optimized the Refresh Mechanism in Djinni's Merchant

. In the new Refresh Mechanism, players will get a higher discount after Refresh and get a highest discount for sure after Refresh 5 times.
2.

Optimized the World Boss

, which will make the boss much stronger. The World Boss will release more powerful skills in Round II.
3.Changed the skills of Spellcaster, which is "when being attacked, 9% chance to cause Chaos for 2 turns, if attacker is immune to Chaos, decrease attacker's ATK , Agility and Hit by 8%, lasts 2 turns" now.
4.Players can use both Capsule Coin and tickets to buy items in Toy Shop.
Bug:
1.Fixed the display bug of Spellcaster after being summoned.
2.Corrected the number of the Alliance players can attack in Alliance Expedition.