Volatile Battlefields: Be the Conqueror!
17.03.27
Conquer the Volatile Battlefields in League of Angels!

Grab your weapons and be the conqueror! Volatile Battlefield is a new feature which enables players to fight through alliances and gain great rewards!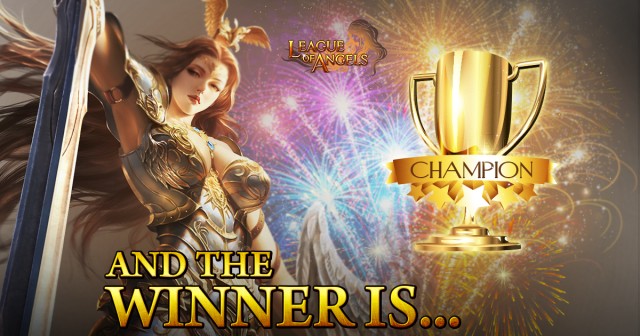 Make sure that you can join the battlefield, please check the event schedule below:

| | |
| --- | --- |
| Dates | Stage |
| Day 1 | Sign up |
| Day 2 | Preliminary 1 |
| Day 3 | Preliminary 2 |
| Day 4 | Top 8 |
| Day 5 | Top 4 |
| Day 6 | Final |
| Day 7 | Rewards |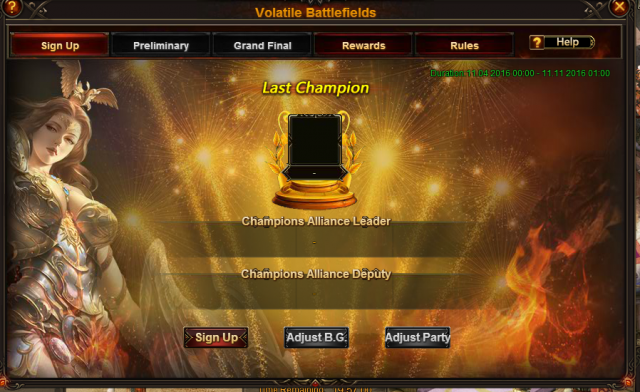 Q1: When should I sign up?
A:
Registration is only available on
THE FIRST DAY
from 00: 00 - 23:59.
Only Alliance Leaders and Deputies have the right to sign up
.
Note: Registration will fail if less than 6 players in the Alliance have logged in to the game within 7 days of the registration.

Q2: Whom can I fight with during the Preliminary?

A: Random Alliances will confront one another based on the Alliance's total BR.
Q3: How do the Top 8, Top 4 and Grand Final work?

A: The Top 8 Alliances will battle against one another. In knockout mode, winners will enter the next round while those defeated will leave battle.
Q4: When can I receive the rewards?

A: All alliances who have joined the battles will gain rewards. Top 8 Alliances will gain ranking rewards, other Alliances participation rewards. Rewards can be claimed for 14 consecutive days before the next Preliminary takes place.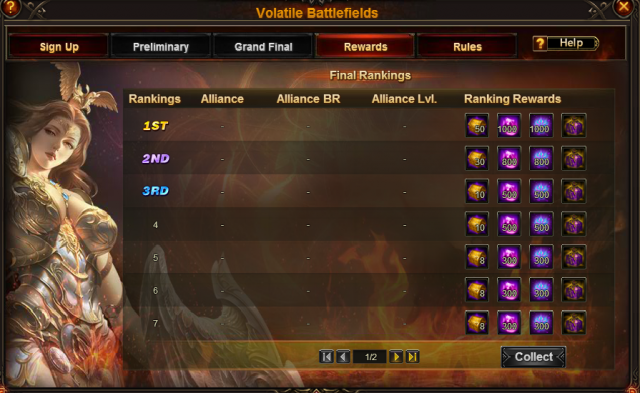 Q5: Can I bet during the event?

A: All players can bet after the Top 8 competition starts. Correct bets win double the wager and wrong bets lose all wagers.
We hope all players will enjoy the new Volatile Battlefields and have a good time in game!