Volatile Battlefields: Who Can Be the Conqueror?
16.11.07
Conquer the Volatile Battlefields in League of Angels!

League of Angels, the award-winning browser MMORPG, is ready to introduce a brand new GVG feature: Volatile Battlefields. This new feature, available on Nov.4th, allows players to team up with friends to fight for glory and claim great rewards at the same time! Here we lift the mysterious veil of Volatile Battle Fields.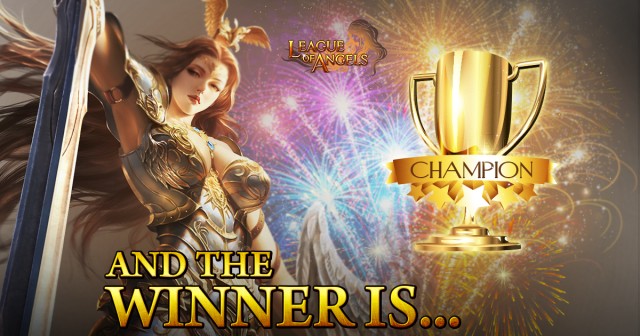 Volatile Battlefields is accessible on the main interface of the game. It's available to players level 70 and above. Check the event schedule below:

| | |
| --- | --- |
| Dates | Stage |
| Day 1 | Sign up |
| Day 2 | Preliminary 1 |
| Day 3 | Preliminary 2 |
| Day 4 | Top 8 |
| Day 5 | Top 4 |
| Day 6 | Final |
| Day 7 | Rewards |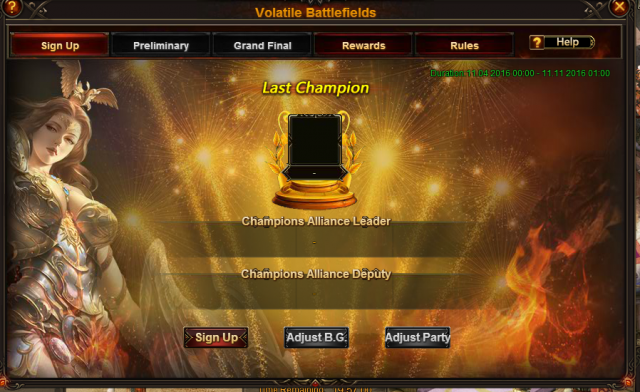 1. Registration:
1)
Registration is only available on

THE FIRST DAY

from 00: 00 - 23:59.
2)

Only Alliance Leaders and Deputies have the right to sign up

.
3)Registration will fail if less than 6 players in the Alliance have logged in to the game within 7 days of the registration.

2. Preliminary:

2 Random Alliances will confront one another based on the Alliance's total BR.
3. Top 8, Top 4 & Grand Final:

The Top 8 Alliances will battle against one another. In knockout mode, winners will enter the next round while those defeated will leave battle.

4. Rewards:

All alliances who have joined the battles will gain rewards. Top 8 Alliances will gain ranking rewards, other Alliances participation rewards. Rewards can be claimed for 14 consecutive days before the next Preliminary takes place.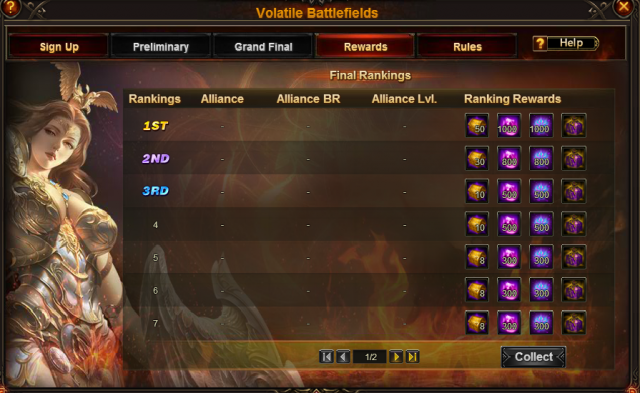 All players can bet after the Top 8 competition starts. Correct bets win double the wager and wrong bets lose all wagers.
We hope LoA players will enjoy the new Volatile Battlefields in this update, and look forward to much more great content coming very soon. Join League of Angels today and experience one of the hottest browser games for free!