Angel World Cup FAQ
14.06.27
FAQ Event
Time:
June 28 – July 7
Scope: Angel World Cup Servers 5 – 6
World Server is now open. Top 600 Players can login the world server with their account and password (sent via in-game mail) from here: http://web.angel.gtarcade.com/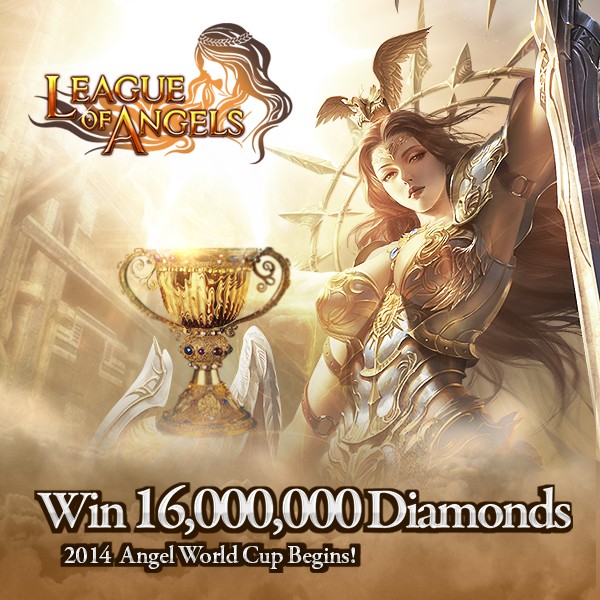 Agenda:
The Angel World Cup event will be held over the next 10 days as follows:
June 28 –June 29 (Server Time - HKT):
Single Server Team Selection – Within these 2 days players must create their own teams.
June 30 – July 2 (Server Time - HKT):
Single Server Preliminaries – Each server will have 36 teams fight it out for their chance to enter the Cross-Server Competition.
July 4 - July 7:
Rest Day
July 8 – July 9 (Server Time - HKT):
Cross-Server Competition –The surviving 16 Teams from different servers will fight it out. The top 4 teams will make it to the knockout stage.
July 10 – July 11 (Server Time - HKT):
Knockout Stage – The 4 remaining teams will fight it out for the title of champion.
Voucher Shop
During the Angel World Cup players may purchase items from the Voucher Shop. Available items include costumes and mounts. For every 100 Diamonds recharged in the players original account from the 28th of June until the 6th of July they will receive 6 Vouchers. These vouchers will be given out from the 29th of June until the 7th of July each day at midnight via in-game mail.
Prize Distribution
After the Angel World Cup has ended players may collect their prizes from the Hot Events interface. We will issue the prizes within 3 working days after the competition has ended.
Please note that the above content might be adjusted due to changes of the development plan. Final updates will be determined in game.
The League of Angels Team