New Voucher Shop: More Items Available
14.04.03
The Voucher Shop will upgraded after Update v3.0071. It will bring you a wider range of items!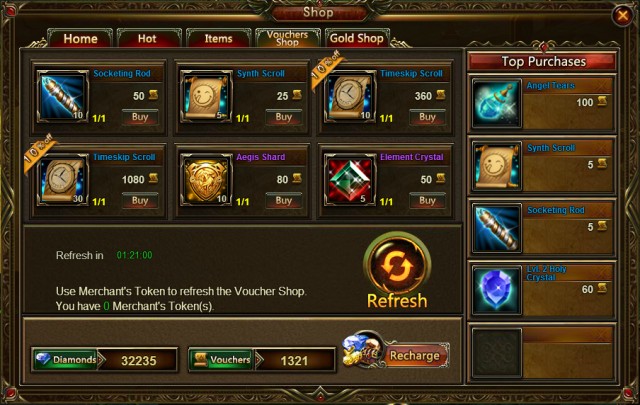 - The Voucher Shop will automatically refresh the items for sale every 2 hours. After each refresh, different items will be available for sale.
- You can use a Merchant's Token to refresh the shop manually. Merchant's Token can be obtained from special events.
- Each type of item has a daily purchase cap.
- The commodities include:
Up to 30 Blessed Stones
Up to 30 Seraph's Stones
Up to 100 Element Dust
Lvl.2 Cherubstone x1
Lvl.3 Cherubstone x1
Up to 100 Aegis Shards
Up to 100 Soulstones
Up to 5 Basic Energy Cards (10)
Up to 20 Angel Tears
Up to 100 Socketing Rods
Up to 30 Timeship Scrolls
More items will be added in future updates; items used for the new systems and even wings will be added! Stay tuned!
With constant updates and optimization, discrepancies may exist between this information and in-game information. The in-game version shall prevail.