New Dark Abyss
Abyss is a totally new series of Single Player Dungeons which brings a completely different PVE gameplay. There are 3 types of difficulty levels:Normal, Nightmare and Hell. You have 2 daily attempts and must complete easier floors before the harder ones are unlocked.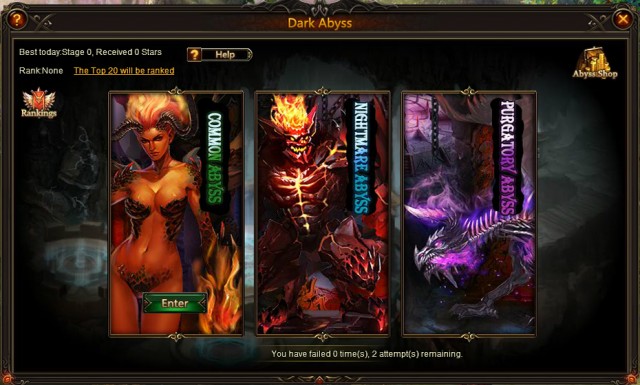 Collecting stars to get rewards:
You will gain a certain amount of stars after you complete a floor for the first time. You will receive buff and rewards according to the amount of stars you've earned.
Win Abyss Coins to buy Holy Gear:
You can win Abyss Coins in Abyss and buy items you want in the Abyss shop. There is Holy Gear, which is even better than Legendary Equipment.
Asking for a friend's help:
You can ask your friend to do you a favor when you explore Abyss. With each attempt you will have 3 chances to ask a friend for help. Come on and fight with your friends!