SS Resource Tycoon: New Angel Alice Arrives!
16.11.02
After enjoying a series of Halloween Special Offers, let's move on to have more fun in November!
Collect resources, claim your rewards and fight alongside new angel Alice in Single-server Resource Tycoon. Check the details below.
Resource Tycoon (Single-server)
Duration: 11/04-11/09(server time)
New Angel Alice, has arrived in the angelic land specially for the coming Thanksgiving! She makes her debut in SS Resource Tycoon, along with Fire Queen, Bloody Dancer and Hoarfrost Blade! If you prefer to the powerful heroes, you can exchange Alice's Icon(and Nubia's Icon) for any one of the above heroes.
Alice also brings a big improvement of Hot Events for resource tycoon.
From Nov.4th to Nov.9th(server time), you will be able to purchase resources based on less consumption of diamonds than before. Check "Mars" out. From Nov.4th to Nov.8th(server time), you can buy resources only 1 time in 1 day! Check "Resource Reaver" out!
From Nov.4th to Nov.8th(server time), the more resources you consume, the more you will regain! For example, if you consumed 3,000 Enchanted Ore, you will regain 1,000 back! Hurry up! Don't miss them out!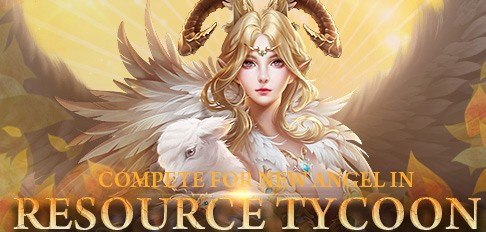 Navigation King is back with all kinds of resources you might neefd to be a tycoon! (from Nov.7th to Nov.9th). Friendly reminder: Nightmare Tiger, the mount which you've voted for, has finally arrived in game! If you want to take him into your party, please be quicker than others!

Turn on the Vending Machine Button in Capsule Toys, you will always find something new here! Dress up the new Royal Egyptian and awaken Apocalypse! And never stop increasing your Battle Rating and join our new GVG feature! Please check the details below.

Get Ready to Conquer the Volatile Battlefields
Be sure to sign up on Nov.4th(server time) and team up with your friends to fight for glory! Note: You have only ONE DAY to sign up.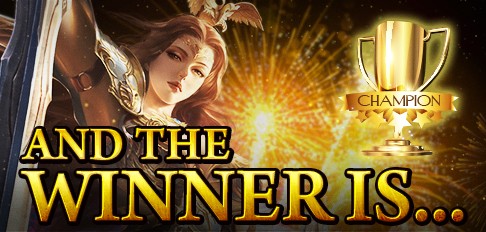 Capsule Toys
Duration: 11/3 to 11/6 (Server time)
Description: Turn on the Vending Machine Button to get Capsule Toys which will earn you different kinds of items randomly.
What's NEW:

Awaken your angels and equip them with sparkling gems! Apocalypse Awakening Stone, Kay Awakening Stone, Raphael Awakening Stone, glorystones and angel essences will all be available!
The Halloween-themed components are still available in Toy Shop! Decorate your Homestead now!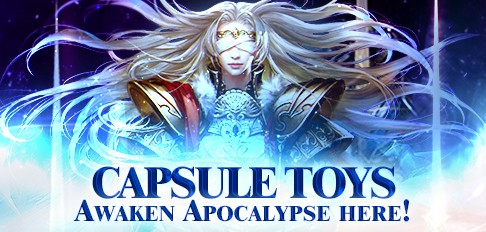 In Toy Shop, you can get wonderful items, Equipment, Angels, Mounts by using Gold Ticket, Silver Ticket, Bronze Ticket, and Capsule Coin.

What's NEW:
1.Dress up Royal Egyptian in Capsule Toys!
2. Lizard, Golden Ram, Floe Hunter and more mounts will be waiting for you! It's important to take a powerful mount with you, isn't it?
3.Haven't got the exclusive armulet for your heroes? Thunder Axe is here for you!
It's never too late to take Revenge Guard, Son of Odin and Bloody Dancer to your party!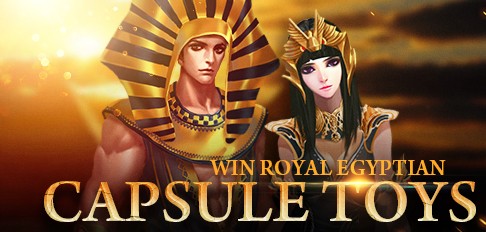 Group Buy
Duration: 11/4 to 10/6 (Server Time)
Description: During the event, the more players who purchase the same items, the higher discounts they can get for the items. When you first buy this item, you will get 30% percent off, which used to be 10% before, and finally you will get up to 70% settlement if it reach certain amount of purchases at the end of the event.
Attention:

Monkey King and Cupid Shards are newly added. Dress up a new fashion and let's play with cute fairies!

The items in this event include Awakening Stone, Soulstone,Grotto Heart, Blessed Stone,Spring of Wisdom, Element Crystal, Spirit Essence, Gem Enhancement Stone, Aegis Shard, Angel Tears, Enchanted Ore, Synth Scroll and so on.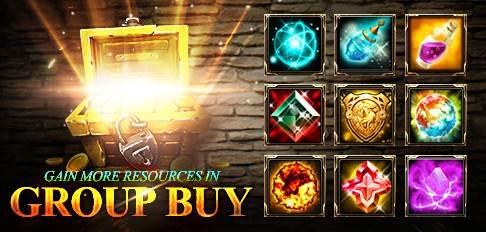 Event Bonus
Duration: 11/5 to 11/8 (server time)

Kill World Boss and claim your rewards! You will get Golden Attire, Awakening Stone,Blessed Stone, Jackpot Lotto Vouchers, Lucky Capsule, God's Trial Card, Daric, Enchanted Ore and more!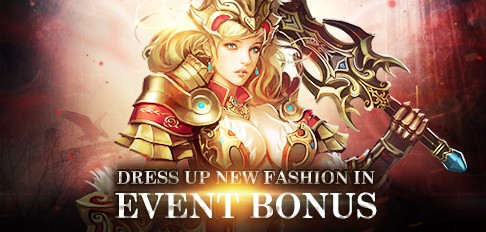 Please note that the above content(including the screenshots) might be adjusted due to changes of the development plan. Final updates will be determined in game.
More exciting events are coming up through November 2nd to November 8th (Server time), check them out in the in-game Hot Events menu now!