Beach Treasure,Lucky Tree & Wheel of Luck:Gain Armament Crystals More
16.07.10
Gain More Armament Crystals for Your Mounts

Enjoy the night of UEFA EURO 2016!

Portugal or France? Who do you think will be the winner? Tell us your answer in our official forum to win FREE DIAMONDS.

Do you want to gain more Armament Crystals for your mounts and be the real resource tycoon? Lucky Tree will help you a lot.
Do you want to gain as many resources as possible? If yes, don't forget to check out Wheel of Luck and Beach Treasure. Magic Mount Soul will be there for you!

Lucky Tree
Duration: July 10 to July 13 (Server time)
Server: S1 to S1347
What's New Here:

1.If you want to make full use of the Armament Socket, don't miss out the Armament Crystal Chests in Lucky Tree! These chests are added in Lucky Tree for the first time!
2. Apocalypse, Hellish Wolf, Messenger of Darkness and many powerful angels & heroes will show up!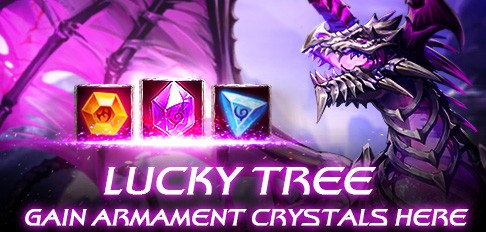 Check out what's more the Lucky Coin Shop.

1.After unlocking an angel, do you want to make your angels even more powerful? Many glorystones are available now! You wouldn't want to miss them out!

2.You can go further with a powerfu mount. What about taking Lizard and Persian Cat with you?

3. The newly added totem Heavenly Blade is available now!

4. It's a great chance for you to dress up new clothing, since Litte Red Fashion, Lover's Reunited, Golden Attire and more will be there.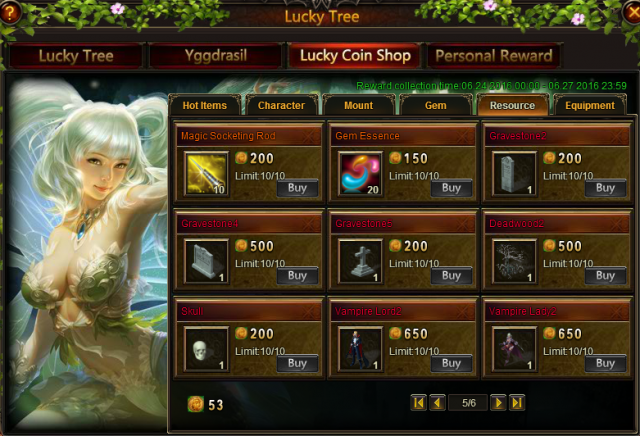 Your personal rewards are based on the points you have got. Take the Lucky Armament Crystal Chest with you! Your mounts need it!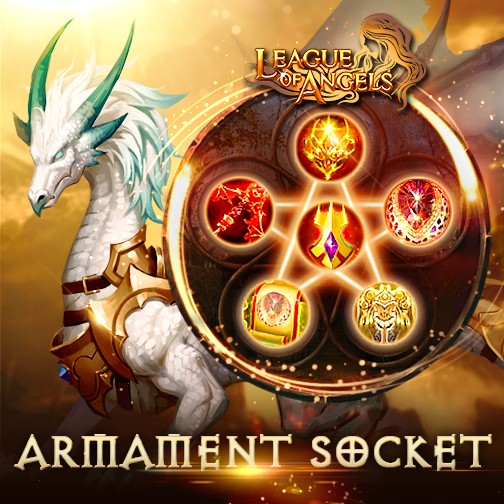 Wheel of Luck
Duration: July 10 to July 13 (server time)
Server: S1 to S1347
Description:
Spin the wheel of Luck to win Magic Mount Soul, Enchanted Ore, Blessed Stone,Heaven's Melody(Legendary), Basic Energy Card, Adv. Energy Card and more!

Also Armaments Socketing Rod is newly added in Store of Luck!

Apart from Magic Mount Soul, Themis Awakening Stone, Themis's Icon Shard, Nyssa Awakening Stone, Spirit Essence, Purgatory Soul and many resources will be available in Store of Luck.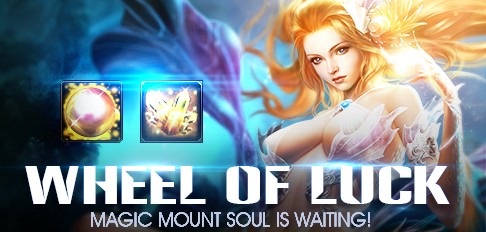 Beach Treasure
Duration: July 11 to July 14 (server time)
Server: S1 to S1347
Description:
Treasures are hiding behind the shells, don't you want to get them? Open the shells, match one pair of items then you can earn them as a prize! And you can also get points by opening shells. Collect points and win mounts and many more rewards!
What's NEW here:

1.Godsend, God's Trial Blitz Card, Soulstone, Element Crystal, Gem Enhancement Stone, Angel Tears, Aegis Shard and many hot resources are waiting! Collect as many as you can to be the real tycoon!

2.Lucky Armament Crystal Chest and Magic Mount Soul are newly added in the Manual Pick Mode. It's never too late to equip your mounts!

3.Magic Mount Soul, Armaments Socketing Rod,Godsend, Spirit Essence, Parchment, Magic Dust and more are available in Points Store.
4.Heavenly Mirror, Spiritsoul Totem, Isode's Icon, Leoric Badge and more hot items are also available!

Besides, you have the chance to win Immortal Guard Totem(Ruby)!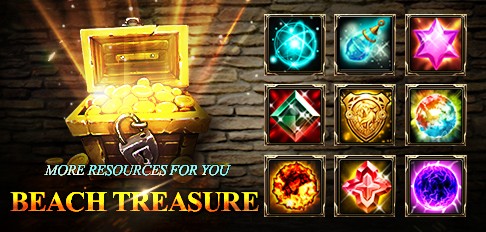 Rules:
1.Each turn there will be 8 pairs of items hiding behind the shells. Match one pair of items then you can earn them as a prize.
2.Ope
ning shells costs shell points, which can be bought buy diamonds. And using 1 shell point will win 10 points. Points can be used to bu
y items in the points store.
3.At 8:00, 12:00, 16:00 and 20:00 of everyday, we will send you 8 shell points. Remember to collect it in time, if not you can not collect it when expired.
Please note that the above content might be adjusted due to changes of the development plan. Final updates will be determined in game.
More exciting events are coming up through July 10 to Ju1y 14 (Server Time), check them out in the in-game Hot Events menu now!
Hope you have fun in LoA!