Noelle
Noelle
Noelle, avatar of the winter, is brave and strong with a cold heart. With snow-white hair, she likes wearing blue and white dress and boots. As one of the strongest guardian angel, Noelle possesses the power of controlling snow to the world, as long as she has her magic wand with her. Her wand releases a special skill to hypnotize creatures when she whispers a heavenly chant at the same time. Sometimes her snows can arouse the children's laughter, and sometimes they become her deadly weapon. Like the other guardian angels, Noelle was not allowed to fall in love with the mortals. She has never broken this rule until one day when she saved a young man from an avalanche, and found he was a warm-hearted man. The longer she stayed together with him, the harder for her to leave him. However, this man was a spy from the dark world, who was sent to steal her magic wand. When she was finally aware of it, it was too late. And she got punishment from the Lord of Guardian Angels. Heart-broken and full of hatred, she started her plan of retrieving her wand as well as the revenge. Now she is coming with icy snow. Be aware, or you will be frozen!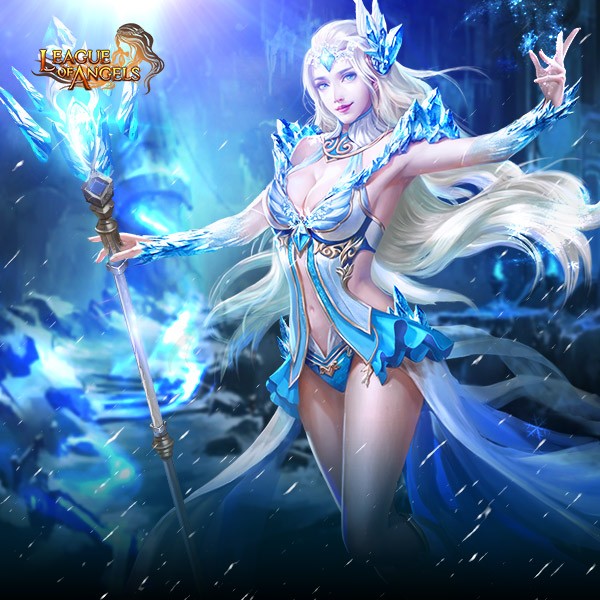 Details
Angel Skill: Heavenly Freeze
Deals (155% ATK + 300) MATK to all enemies and increases ATK by 3% for entire party with 100% chance of hitting, last 2 turns.
Basic Stats
| | | | | |
| --- | --- | --- | --- | --- |
| Angel MATK | Agility | Hit | Crit | Crit Damage |
| 875 | 215 | 35 | 35 | 30 |
As we continue to develop and improve League of Angels, new updates may slightly change the appearance or effects of systems and classes in-game. Where any discrepancy between game and guide occurs, in-game data shall take precedence. If you discover any errors, bugs or inconsistencies please contact us immediately and we will fix it as soon as possible.

The League of Angels Team
Last: None...
Next: Grace